Looking to experience Javea in an original way? Here are some inspiring ideas of things to do in Javea that will get you off the beaten path, and show you the "Monaco of Spain" in a new light. Everything you need to know about attractions and things to do in Javea in Spain.
Best things to do in Javea ( Xàbia )
From the historic centre to some truly gorgeous Javea beaches, get around with our guide to the best things to do in Javea on the Costa Blanca North in Spain. We're here to make sure you get the most out of your visit with this run-down of the attractions you absolutely can't miss. Maybe you can't wait to try the local food, or perhaps you're set on making a beeline straight for those picture-postcard beaches. Whatever your holidaying preferences, read on and start ticking off the city's most exquisite sights according to the Javea Travel Guide.
Also read: Things to do with kids in Javea
#1 Historic Centre
The cozy old center of Javea is worth a walk a few hours in the morning. Just walking around and admiring the whitewashed Gothic-style buildings is an experience in itself. Have a look at the gothic church of San Bartolome, and visit the busy food market with its stalls full of fresh fish and fruit and vegetables from the region. The old town of Javea is still very Spanish and prices then. One good advice is to follow the Spaniards and try the tapas on the many local squats. Around the cathedral of the late Middle Ages, the historic quarters of the city cluster together, with house façades drawn with flowers in colorful pottery pots. People live their daily lives in the narrow streets, hardly feasible for anything but mopeds. Read more about the old town in Javea
#2 Visit one of Javea`s beautiful beaches
Playa de Arenal is the sandy beach area of ​​Javea. It is a chilled area stretching more than 300m from the well located at the famous Parador in the north. In this area there are many cafes, bars and restaurants. The beach itself is fabulous with superb fine golden sand. There is a volleyball net along the back of the beach which is popular later in the day and there are plenty of play areas for the kids.

The Cala Granadella beach on the outskirts of the city is at the bottom of a steep and cobbled forest road. If you are lucky and find a car park, you can enjoy the beach life and the little tavernas until the evening falls on. Granadella Beach is named one of Spain's most beautiful bathing boats! Here you can enjoy the beach life and the little tavernas until the evening falls on. Further south you will find Cala de la Barraca, a rocky beach with crystal clear waters and 'la Isla del Portichol' which is just a few kilometers outside of Jávea. Further south you will reach small, hidden coves and beaches, all with an exceptional beauty. Read more about beaches in Javea
#3 Javea markets
Javea has a bustling weekly market on a Thursday in the Plaza de la Constitución in the old town, selling amazing fresh fruit and veg, fish and meat, as well as household goods, leatherwork, clothes, and the usual tourist accessories. In the Plaza Celestino Pons you'll find the daily indoor food market, located in an attractive former monastery. In the summer evenings there's a night market along the promenade, selling knick-knacks and souvenirs. There's also a weekly arts and crafts market at Javea Port on Sundays in the high season, where everything is handmade by the person running the stall – knitted goods, pottery, jewellery and more. Read more about markets in Javea
#4 Experience the beautiful harbor of Javea
Today, most ports in the tourist areas have become trendy marinas with exclusive shopping shops, but not the garden in Javea. It still works as a fishing port with boats moored nearby. If you take a trip to the harbor you will be attracted to the beautiful promenade, restaurants and cozy local bars. The view of the bay is spectacular. During the first week of September, one of Spain's more unusual fiestas will be arranged when the bulls are released. Read more about the Port area of Javea
#5 Soler Blasco Archaeological and Ethnological Museum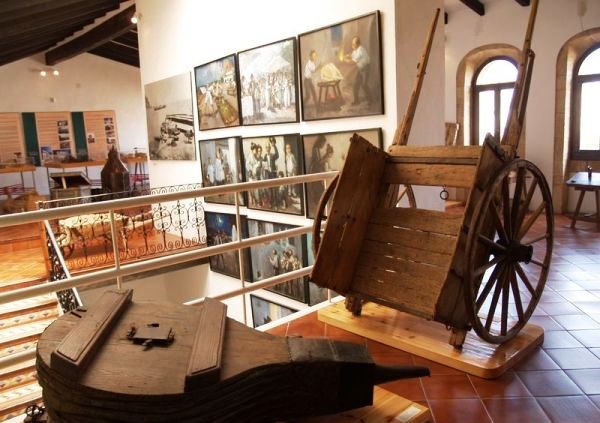 The museum Soler Blasco Archaeological and Ethnological Museum is located in the historic center of Javea in a building known as "La casa-Palau de Antoni Banyuls" (Palace of Antoni Banyuls). It is one of the city's most important historical buildings, which now houses a large permanent exhibition of temporary exhibitions. Built by Banyuls who was connected to King Philip III – in the first half of the seventeenth century. The palace has an impressive Tosca stone façade and is spread over three floors. The museum consists of 10 exhibition rooms, eight of which are dedicated to the regular exhibitions with examples of Javea Iberian Treasure and Roman and medieval ceramics, among others.
#6 Diving, golf and sailing in Javea
In addition to expelling the days at the beach in Playa del Arenal, and eating at the fine local restaurants, it is enough to make entertainment for the whole family. Diving in Javea is highly recommended and there are no end of dive companies that offer introductory dives and PADI courses. The Costa Blanca has more than 13 golf courses and opportunities for sailing are available from the puerto. Read more about water sports in Javea

The quality of the golf course in Javea in January is in line with what we experience at the very best in the summer in north of Europe. The course was designed by Francisco Moreno and opened in 1981. The course is a slightly sloping 9 hole course with well-kept greens and fairways flanked by palm trees, pine trees and orange trees. Although it has only 9 holes, many of the holes are played from different tees that make it virtually an 18 hole course. Although the golf course is not very long, it is challenging. Read more about Javea golf course here
#7 Hiking trails in Javea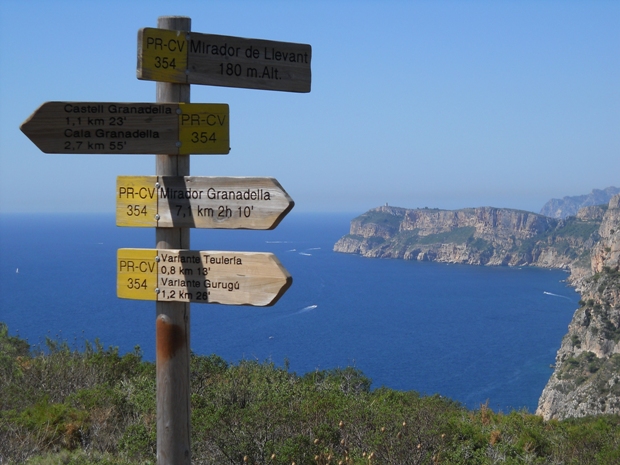 Javea's most famous landmark is the Montgo Mountain. Javea residents say that it's an elephant that has been made of stone. You can even see the elephant eye shut when the sun goes down. There are also some good hiking trails around Javea and if you are interested in tours for the area you should ask in the tourist information after the book "Nature Parks and Hiking trails". Read more about the Montgo Nature Reserve in Javea

From the vast massive Montgó mountain that extends its protective arm into the sea to the open natural areas of Adella in the south, Javea offers many opportunities for hikers of all ages and all skills. Five official routes exist, almost 45km of trails open up the beauty of both nature and the coast and are perfect for a short afternoon walk along the sea cliffs or an energetic day trip up to the mountain tops. There are short walks through orange groves on the plain, or cultural walks through the narrow streets of the historic center.
There are more energetic Rambles to the castle of Adella or to the iconic windmills of La Plana, as well as the wonderful carved carverns of Cova Tallada. If you rent a car in Javea there are many day trips available to other interesting places like Denia and Gandia and along the coast you will find many beautiful beaches. Some of the best you will find beyond Denia from Javea as far as Oliva. Read more about 7 stunning walks for hiking in Javea
#8 Mini golf and go-kart in Javea
Bring your kids to the miniature golf or go-kart course next to El Naranjal camping which is just off the main road. They have a challenging 18 hole mini-golf course, great for children and adults who easily get back to children when they get the magic hole in one! Only 3 euros for a round and play as long as you want ! Read more about mini golf in Javea

Karting Javea is a Go-Kart course in Javea, offering go-carts for all ages and levels. It is located near the main Arenal beach in Javea, with great facilities and high quality go-karts. Come and enjoy the facilities, including a swimming pool, playground and La Laguna Bar-Grill.

There are short distances to other small towns such as Moraira, Pedreguer and Benitaxell. There are also short distances to some larger cities like Denia, Altea, Calpe and Alicante. If you want a big city trip, it's only one hour's drive to Valencia.
#9 Ruta de los Miradores
One of the essentials tourist activities of Jávea is at the Ruta de los Miradores which you will not find elsewhere. Throughout its 25 km of coastline are 15 magnificent viewpoints from which to contemplate the beauty of the natural environment, hidden coves and wild cliffs lapped by intense blue waters and is strategically located. The route is well signposted and viewpoints have indicators which will give you information about the area. Read more about the best viewpoints in Javea
#10 Family bike routes

If you travel with your family, this is an ideal excursion for its little difficulty and level ground. Departing from the Port of Jávea you can head to the south in direction to Cala Blanca. You can enjoy some spectacular views of the Bay of Jávea, through quarries from the Middle Ages, as well as Roman remains. A fun way to spend the day with your family in the countryside, playing sports and learning about the history of this beautiful town.

#11 Children Playgrounds in Javea
If you are taking young children on holiday, then you'll be pleased to know that there are many small playgrounds dotted throughout Javea. Arenal beach has several activity zones and 3 play areas, and there are several parks within the town that have play areas, including Parque Reina Sofia and Parque Montaner. The Parque Pinosol playground has recently undergone a major revamp and children will love it. Read more about children playgrounds in Javea
#12 Javea's festivals
Javea's main festival is at the end of August and start of September, honouring Our Lady of Loreto. The main spectacle is the Bous de la Mar (Bulls to the Sea) which involves trying to lure bulls into the sea (this rarely happens, but lots of local Spanish youths tend to throw themselves into the sea). Apart from the bull spectacle, the festival bring Sangria, lots of music and fresh sardines.
The last 2 weeks of June see the Fogueres de San Joan, during which papier mache sculptures (ninots) are made and then burnt. Expect music, bonfires, fireworks and all-night parties too.
At the end of July the Moros y Cristianos celebrations involve beautiful costumes, parades, play battles and again, fireworks and late-night partying. Read more about Javea`s Festivals
#13 Local Food and Drink
Traditional cuisine from Javea consists largely of rice dishes, seafood and Spanish tapas and can advertise with an impressive selection of great restaurants from all continents. In addition to countless tapas bars and traditional Spanish restaurants, there are a number of exclusive restaurants that keep a very high level. For many who are on holiday in Javea, it can be difficult to distinguish between the restaurants that only severer the usual tourist food, and the restaurants where you really want a very special dining experience.
Nuts of all varieties are grown in the countryside, including tiger nuts, which are the main ingredient in the tasty and refreshing soft drink, horchata. And when you order tapas, you'll often get a side aioli for dipping: This delicious garlic sauce goes with pretty much anything. Read more about where to eat in Javea
If you are looking for the best bars and nightclubs in Javea? Javea nightlife does not disappoint. The most popular area is the Arenal beachfront boulevard and surroundings. Here you'll find busy bars and restaurants, and nightclubs which only open after midnight. But Javea nightlife also includes lively bars and tapas restaurants in the port area, as well as in the narrow, historic streets of Javea's old town. Read more about Javea Nightlife
#14 Javea Tourist Train
The Xàbia tourist train is a great way to move around the town and experience the main areas of Javea: historic center, Arenal Beach and the port area. The tourist train has a total of six stops scheduled along the 8-kilometer route.
The round trip has a total duration of 1 hour (30 minutes for the outward journey). The train runs every day of the week. Its hours are from 10 am to 14 pm and from 17 pm to 23 pm. The start of this service is from Avenida Jaume I, in the port of Xàbia. Read more about the Javea Tourist Train
#15 Javea Cinema
The Jayan cinema today ranks as one of the best-equipped cinemas in terms of image and sound on the Spanish scene. Javea Cinema is located in the port area, and has been showing movies for more than 60 years and has recently undergone an extensive renovation to make it one of the premier independent cinemas. The cinema regularly shows films in what is called the VOSE format, which means that the audio will be in the original language, such as English, whilst there will be subtitles in Spanish. Read more about cinema in Javea
#16 Pinosol Park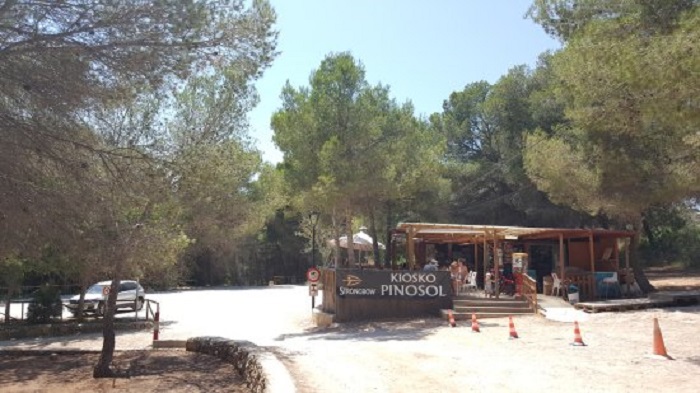 Pinosol Park is just a few minutes' drive from El Arenal in Javea. When you are tired of beach life, this place is a great outdoor area that offers various activities. The park Pinosol in Javea is an eldorado for both children and adults. In addition to a beautiful playground and a cozy eatery, Kiosko Pinosol, the park contains 20 sculptures carved into tree trunks of burnt pine trees. The tree trunks remained after the violent fire that ravaged Javea and Benitachell in early September 2016. Read more about Pinosol Park in Javea
Map of attractions in Javea