Jávea offers a wide range of watersports to choose from, whether it is your first time and you're just doing it for fun or you're an experienced water-sportsman and are pursuing your passion. Some activities are more energy-intensive than others and therefore could be better suited to you depending on your current well being, this should be taken into consideration before partaking in the activities.
Also read: 16 Things to do in Javea
Water Sports Javea
Javea beaches offer myriad water-based activities, allowing you to have heaps of fun and take in the city view from a different perspective at the same time. The gentle sea breezes of the Mediterranean mean that pleasant weather is a given almost year-round, so whatever Javea water sports take your fancy, we will be able to help! With such a variety of activities, there truly is something for everyone! Find the activity you are interested in below.
Kayaking in Javea
Kayaking is one of the most relaxing activities on the list, either choose to go solo or with a partner, paddling around the Jávea coastline exploring all the caves, inlets and secret beaches you can find. Alternatively, you can choose to be part of a guided tour, so everything's already been found for you! The choice is yours! Read more about Kayaking in Javea
Snorkeling in Javea
Snorkeling is a fantastic activity for the family as it requires very little energy and the results can be spectacular. Either rent or buy locally some goggles and a snorkel or two and you can spend hours in the water gazing at the many species of fish and wildlife in the area. Read more about snorkeling in Javea
Paddle Board in Javea
Paddle Board – My personal favorite! Paddle boarding is an amazing way to escape any form of hustle and bustle on dry land, by venturing out into the sea and just having some time with yourself. There's something very special about paddling out into the open sea, with just you and the board… but you'll have to find that out for yourself! This sport can be a little trickier to master than kayaking as it does require some sturdy balancing, however with a bit of practice you should be up and off in no time! Read more about paddle board in Javea
Diving in Javea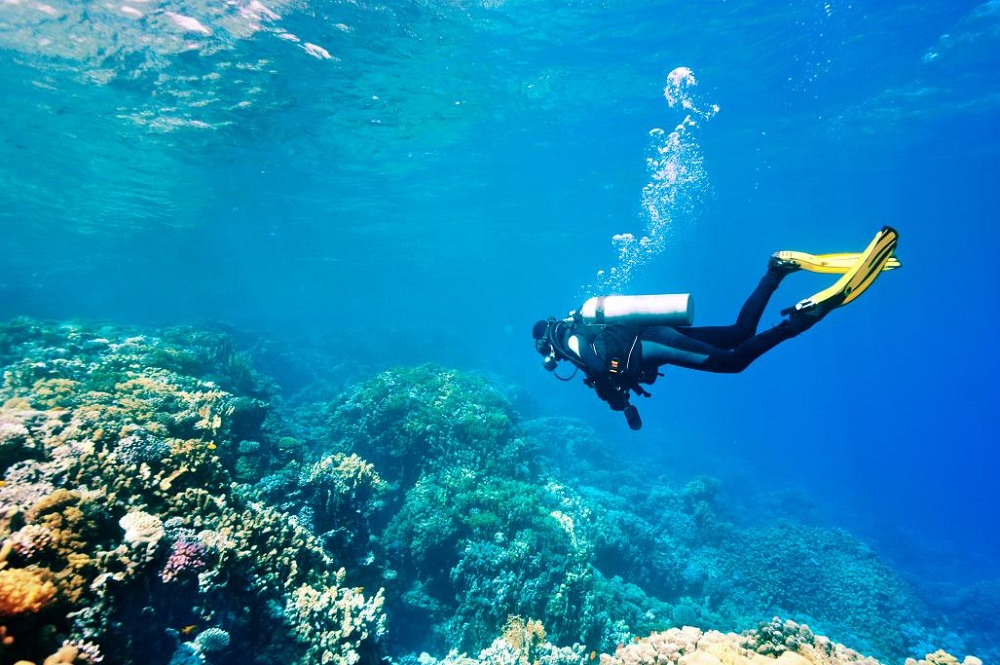 Diving – When it comes to diving, it's really mind over matter. Once standing high above the water's surface, every bone in your body will be telling you to climb back down and continue living your life as normal… but those with the spirit to make the jump will experience a moment of pure freedom which is hard to replicate. The first jump is always the hardest! Read more about diving in Javea
Fishing in Javea
Whether you're doing it for fun or whether you're trying to catch dinner, fishing is one of the most relaxing activities on this list when done correctly. There are many spots in Jávea in which fishing is perfectly acceptable, however some spots are protected for the well being of the fish and ecosystem. Information on these areas can be found in the link at the bottom. Read more about fishing in Javea
Scuba diving in Javea
Scuba diving can be an amazing way to see the parts of Jávea that would otherwise be unreachable. There are many local companies that offer scuba diving excursions for all skill ranges, in which you will be taken to some remarkable spots including the 'Cabo de San Antonio Marine Reserve', and will have the opportunity to see some of the protected wildlife first hand. If you've never been, you should definitely try, don't worry, you get the hang of it very quickly! Read more about Scuba diving in Javea
Seabob in Javea
Seabob – Also known as a UHPW or Ultimate High Powered Watercraft is a fantastic, relatively new activity, in which you would be given what is essentially a hand held jet ski that will propel you through the water and enable you to make sharp underwater manoeuvres similar to that of a fish! Often used to help divers and scuba divers explore lower sections of the seabed with minimal effort and maximum efficiency. It's definitely worth trying out this futuristic fun! Read more about seabob in Javea
Jet Skiing in Javea
Jet Skiing – Jet Skiing is the activity of riding a small jet propelled vehicle that skims across the surface of the ocean. I can tell you from the heart that this activity is exhilarating and definitely one to get your heart pumping. It's a very liberating experience being able to open up the throttle to full speed in any direction you choose, not being confined by roads or walls… just you and the waves! Read more about jet skiing in Javea
Wakeboard in Javea
Wakeboard – Multiple companies in Jávea offer wakeboarding trips in which the rider will stand on a short board with foot bindings and will be towed behind the back of a motor boat at high speeds, across its wake and for the more advanced, up off the crest of the wake in order to leave the water and perform aerial maneuvers. Once you get to grips with getting a grip, you're going to fall in love with this sport… it just may take a few faceplants first! Read more about wakeboard in Javea
Inflatables in Javea
Inflatables – Whether you have your own boat or would be taken out on one, many companies offer a variety of inflatables that can be hired for the day. These include tubes (donuts), banana boats and the Super Mable. All of which require you to hold on for dear life as your inflatable is dragged through the sea at high speeds… the first one to fall off is a rotten egg! Read more about inflatables in Javea
Kitesurfing in Javea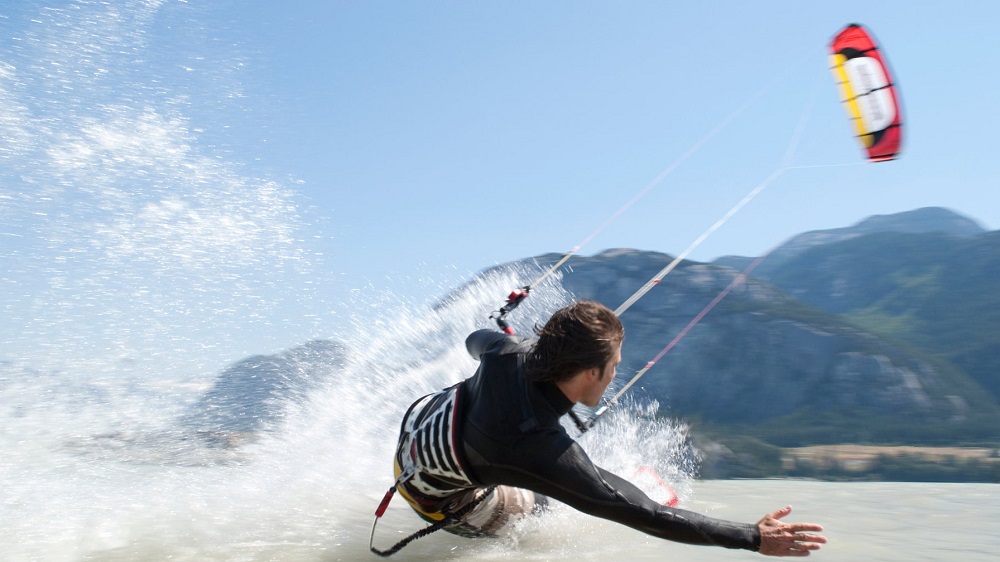 KiteSurfing – Kite surfing is debatably the trickiest activity on this list to do well. This activity is all about harnessing the power of the wind through a large parachute that is attached to you via a harness. You will also have a board similar to that of a wakeboard and will be propelled across the water's surface at high speeds often being pulled up and out of the ocean enabling you to perform aerial tricks. Not one for the faint hearted! Read more about kitesurfing in Javea
Parasailing in Javea
Parasailing – Parasailing is one of the more leisurely activities on this list as it requires next to no effort! Essentially, you will be seated in a harness attached to a motor boat in front and a parachute to your back. As the boat picks up speed and the parachute catches the wind you will begin to be elevated out of the water and up into the air, enabling you to get some truly unique views of the surrounding coastline and sea.
Flyboarding in Javea
FlyBoard – Prepare to be amazed! FlyBoarding is a MUST TRY activity. You may have seen short videos of it online or perhaps on TV, but neither do it justice. In FlyBoarding, a rider will be strapped onto a board that is connected to a watercraft via a long hose. Water is then forced up through the hose under huge pressure, and out through the jet nozzles located on the underside of the board. This provides an immense amount of thrust that can propel the rider up to 70 feet into the air or to dive headfirst through the water like a dolphin!
Sailing in Javea
Sailing utilizes the wind on either kites, sales or wing sails in order to propel the boat forwards. This activity can prove difficult for beginners, but once you get the knack, sailing is known to be a very relaxing activity. As you glide through the ocean, with no noise pollution from would-be boat engines… a picture of serenity and tranquility! Read more about sailing in Javea
Boat Trips in Javea
Boat Trips – There are a multitude of different boat trips available in Jávea, especially in the summer months. The aim of these trips are to take you to the places that you would never really get a chance to see. The experienced skippers know the area like the back of the hand and as a result can easily find you a spot for either the best instagram shots or to drop anchor and relax! Reat more about boat trips in Javea
Sea Biking in Javea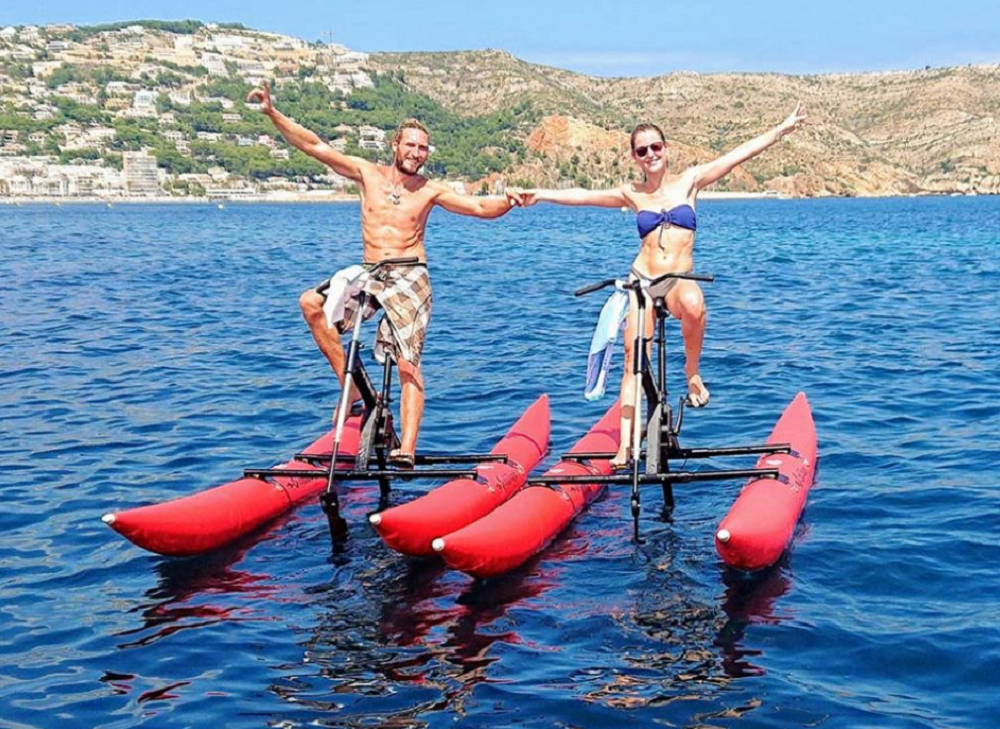 Sea Biking – Sea Biking is essentially just that… biking on the sea! It's a specially designed piece of equipment that allows you to cycle on top of the water using 2 floats either side to stabilise the bicycle. It can be done at a leisurely pace, so I would highly recommend this activity to anyone of almost any age. It's easy, fun and not something you do everyday! Read more about sea biking in Javea
Surfing in Javea
Surfing is hugely popular in Jávea, especially around the Arenal area as the conditions and waves are often perfect. Surfboard hire is available all over Jávea and can be done by surfers of all skill levels. For beginners, an instructor can come and teach you the basics to get you on your feet and for the more experienced, you can rent a board and hit the open water solo if you so choose! Read more about surfing in Javea