Pinosol Park is just a few minutes' drive from El Arenal in Javea. When you are tired of beach life, this place is a great outdoor area that offers various activities.
The park Pinosol in Javea is an eldorado for both children and adults. In addition to a beautiful playground and a cozy eatery, Kiosko Pinosol, the park contains 20 sculptures carved into tree trunks of burnt pine trees. The tree trunks remained after the violent fire that ravaged Javea and Benitachell in early September 2016.
This is a great place to take the children, there are 2 play areas, one for smaller children with a wooden climbing frame and slide, the other is for older children which has monkey bars and a table tennis table. It can be quite hot in the summer as one play area is not shaded, but there is a BBQ area with lots of seating under the trees so there are some shady areas. Its also a good place to have your little ones birthday party.
Video of the Granadella fire
The sculptures Pinosol park
Miguel Angel Miguel Garcia from Javea, started drawing and painting early, but his profession is gardening. Eventually he used a chainsaw to make wooden sculptures. This became a hobby and passion, and many people showed interest in his sculptures and ordered figures for their own gardens or for special public areas. After the fire that destroyed the beautiful, tall pine trees, he wanted to do something positive out of the destroyed area in Pinosol.
The municipal biologist gave him permission to make sculptures in the park. He started in June 2017 on the work of creating beautiful sculptures. The widest pine trunks in the area were selected, and he started with the chainsaw. The first sculpture he made was a woodpecker. Then came a pelican, a peacock, an owl, a phoenix and many other sculptures of different animals, totems and faces. These fantastic figures are now scattered throughout the park to the delight of all who visit the place. It is impressive how he has managed to transform almost burnt down trees into expressive sculptures.
Bird Phoenix
Bird Phoenix can be a symbol of how to get up again after a disaster. Bird Phoenix is ​​a fable bird from Egyptian mythology. Legend has it that the purple bird Phoenix with the long tail feathers lives for 500 years. When it knows it is going to die, it flies to the holy city of Heliopolis. There it builds a nest of myrrh in the temple of the sun god Ra. When the sun rises, the nest is ignited by the sun's rays, and the phoenix's bird burns up. But from the ashes, the phoenix reappears into a new, young bird that is ready to fly away.
Many religions and cultures have since "adopted" the story of the phoenix bird, and in Christian tradition it has become a symbol of rebirth, such as Jesus' death and resurrection.
In 2020, film producer Diana Gross began filming the movie Phoenix, which will tell how the Granadella fire affected many people and how they got up again. About. 1,400 people had to evacuate their homes, and many houses caught fire. Solidarity and compassion among the citizens led to a better unity in society.
Spanish families have realized the possibilities the park Pinosol offers and use it as a favorite excursion site. It is possible to grill brought food, and the children can unfold in the playground. The restaurant Kiosko Pinosol offers varied food and drinks at affordable prices for those who want it. The staff is friendly and service minded.
Tourists are also starting to open their eyes to this place, and it can be highly recommended to anyone who wants to do something other than lie on the beach.
Pictures of wooden sculptures from the park Pinosol in Javea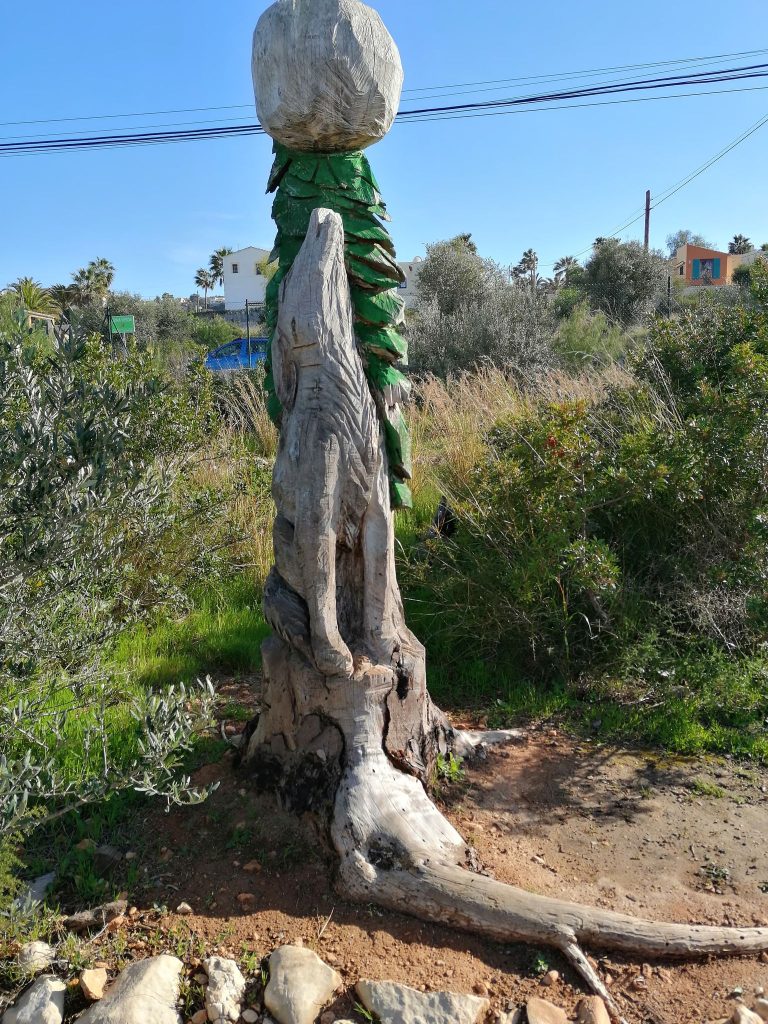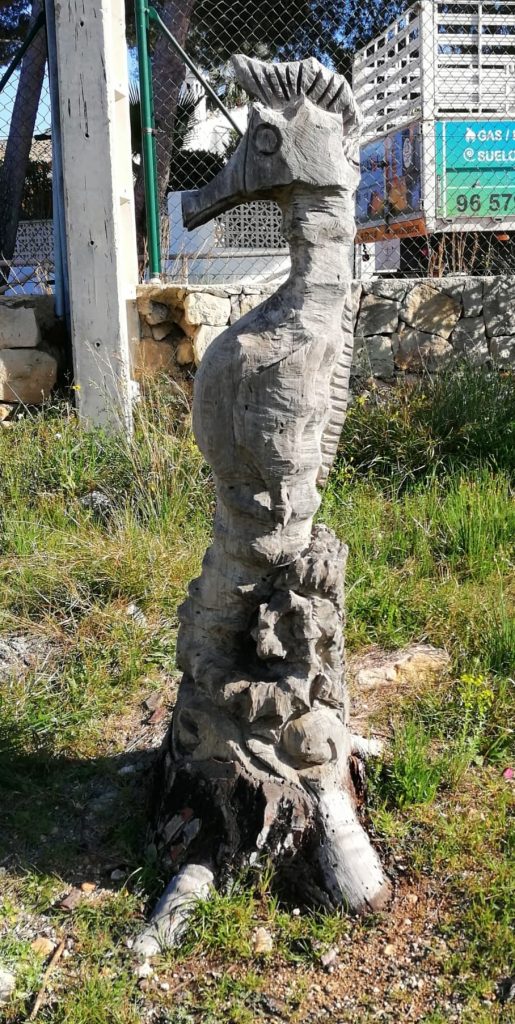 Map Pinosol Park in Javea
Directions from Javea Arenal to Pinosol Park