Just 721,003 euros.
That was the average price to buy a property in Javea in August, 2022. It turned Javea into the fifth most expensive place to buy a house in Spain. Javea and Altea also ranked in the top 20 most expensive places to rent, with average monthly prices at €1,200-€1,600.
The Javea property market has grown fast in the last five years. Property prices are up a maximum of 50% in 2022 compared to 2017 – it's the fastest housing prices have ever grown in Javea.
If you're looking to sell, remortgage or change mortgage plans in Javea you should get a property valuation.
Your property's value will depend greatly on being 5km to the coastline, with sea views, a private pool, on-site parking, plot size and more. Location is also a huge factor.
To get an idea, see our graph of the Javea property market in six different areas over the past five years.
Also read: 10 Tips for a great Javea Propery Valuation
Property market in 6 Javea areas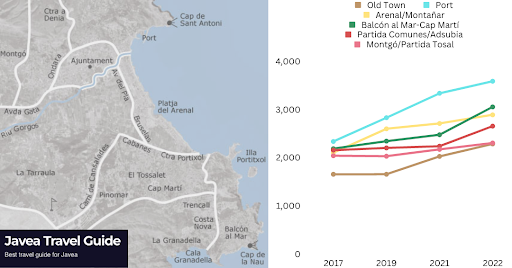 All parts of Javea have seen rising property prices in the last five years.
If your property is located in the port area of Javea, on the headlands of Balcón al Mar and Cap Martí or in the Old Town or Arenal, your property could have gained over a third in price over the past five years.
See the rise in € per m2 for property in five of Javea's regions in figures:
49.6% increase – Port (€2,333 to €3,489)
39.7% increase – Balcón al Mar/Cap Martí (€2,184 to €3,050)
38% increase – Old Town (€1,652 to €2,281)
37.4% increase – Arenal (€2,100 to €2,886)
23.2% increase – Partida Comunes/Adsubia (€2,151 to €2,651)
12.9% increase – Montgó/Partida Tosal (€2,037 to €2,301)
How to get a trusted property valuation in Javea?
If you own property in Javea, you'll want a property valuation for one of three main reasons:
You're selling property in Javea and want an expert's valuation
You're looking to remortgage your property
You're hoping to change mortgage plan, lock in lower interest rates, or your policy is changing and you want to explore your options
If you're selling property in Javea
Know that many top estate agents in Javea will provide a free valuation before even signing a sales agreement. Unless you already have a trusted estate agent contact in Javea you can ask at least three for an independent valuation.
Try Blanca International, who offer a free property valuation service in Javea. Just get in touch with their estate agents via the WhatsApp chat on their website or call their number. A Blanca International valuation takes into account:
Property location in Javea
Property style
Property features (e.g. swimming pool, sun terrace, garden)
Property size
Property age
Added value of renovations
Parking
Terrain
Views
Paperwork in order
Air-conditioning systems
Appliances
Market research into sale prices of similar properties
Contacting different estate agents lets you get a broader input on your property's value, and helps you establish a relationship with the estate agents who will go on to sell your property in Javea. If you have a trusted agent or want more favourable commissions, you can choose to give exclusive selling rights to one agency.
Some websites offer a free online valuation service – like this one from leading property portal Idealista (in Spanish). You can also get a free online valuation from Javea-based Spanish Casa.
You can also pay an independent professional to value your property – online comparison site Certicalia says the average cost from 12,397 quotes was €276. The most expensive was €450 and the cheapest was €100. You might need to search in Spanish for a 'tasador' or for an 'arquitecto técnico' working at an architect's studio.
If you're looking to remortgage your property
If you want an accurate Javea property valuation that will affect your borrowing, mortgage plan or interest rates, you'll need a professional accredited by the Bank of Spain (Banco de España). Your bank will use one of these professionals to calculate your loan-to-value amount, which rarely exceeds 70-80% for Spanish residents. 
A bank's valuation is not the price you sell your property for. It could be higher or lower – with favourable or unfavourable results if you're borrowing money.
The bank will likely charge you for a property valuation, and there will be fees for remortgaging a property. You should find out the details from your mortgage provider.
If you're hoping to change your mortgage plan
Some banks will offer competitive mortgages that have no upfront cost for property valuations. It's all included in the price should you take up the new mortgage provider's offer.
If you're hoping to change your mortgage plan, it might be best to contact a mortgage broker. These can give you the best advice before you move forwards with a property valuation in Javea. Many also speak English like Mortgage Direct and you can ask them for a free quote.