Javea, a beautiful coastal town on Spain's Costa Blanca, offers a wealth of attractions and activities for visitors during the summer months. With its stunning beaches, vibrant culture, and countless opportunities for adventure, Javea is the perfect destination for a memorable summer vacation. In this article, we'll share some of the best things to do in Javea during the summer season.
Also read: 16 Things to do in Javea
#1 Lounge on Javea's Beaches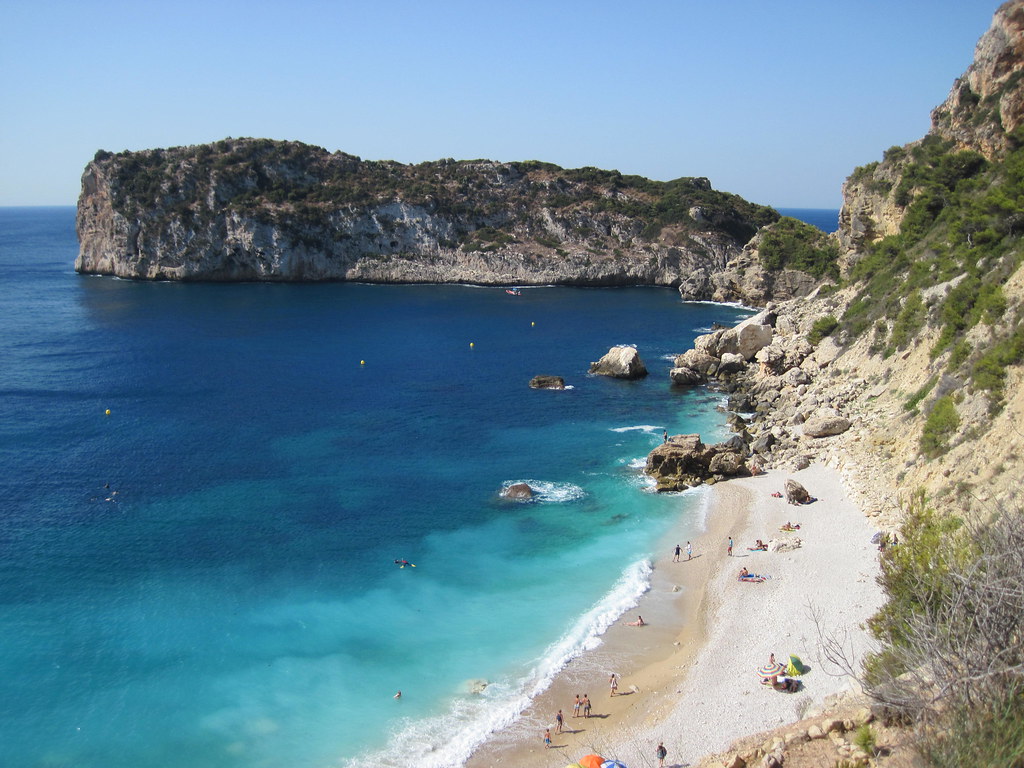 Summertime in Javea means beach days, and with over 20 kilometers of coastline, there's no shortage of sandy spots to choose from. Head to Arenal Beach for a family-friendly day of sunbathing, swimming, and watersports, or venture to the pebble beaches of La Granadella or Portixol for a more secluded and tranquil experience. Read more about beaches in Javea
#2 Enjoy Watersports
Javea's crystal-clear waters and warm temperatures make it an ideal destination for watersports enthusiasts. Try your hand at paddleboarding, windsurfing, or jet skiing, or take a scuba diving or snorkeling excursion to explore the Cape of San Antonio Marine Reserve and its diverse underwater ecosystem. Read more about water sports in Javea
#3 Discover the Old Town
Javea's charming old town, with its narrow cobblestone streets and whitewashed buildings, is a must-visit during the summer months. Explore the historic Church of St. Bartholomew, the colorful Central Market, and the numerous art galleries and boutique shops that line the streets. Read more about the old town in Javea
#4 Experience Local Festivals
Summer is the season of festivals in Javea, offering visitors a unique opportunity to experience the town's vibrant culture. Don't miss the Bonfires of San Juan in June, featuring impressive fire sculptures and fireworks, or the lively Moors and Christians Festival in July, which showcases elaborate parades, live music, and dancing. Read more about festivals in Javea
#5 Hike in Montgó Natural Park
Take advantage of Javea's picturesque surroundings by exploring Montgó Natural Park. With numerous hiking and cycling trails winding through its lush landscape, the park offers a perfect escape from the summer heat. Make your way to the summit of Montgó Mountain for breathtaking panoramic views of Javea and the surrounding coastline. Read more about Montgo Natural Park
#6 Sail Away on a Boat Trip
Discover Javea's stunning coastline from a different perspective on a boat trip. Choose from guided tours that showcase secluded coves, dramatic cliffs, and underwater caves, or rent a private boat for a more personalized experience. Keep an eye out for playful dolphins that often accompany boats along the coast.
#7 Sample Local Cuisine at Outdoor Restaurants
Javea's warm summer evenings are perfect for alfresco dining. Sample traditional Spanish dishes, such as paella or tapas, at one of the many outdoor restaurants and bars that line the Arenal promenade or the charming streets of the old town. Read more about the Top 10 Restaurants in Javea
#8 Take a Day Trip
Javea's convenient location on the Costa Blanca makes it a perfect base for exploring nearby attractions. Take a day trip to the beautiful city of Valencia, the mountain village of Guadalest, or the iconic Altea, known for its picturesque old town and stunning views. Read more about road trip in Javea
Conclusion
With its beautiful beaches, rich history, and lively summer festivals, Javea offers an unforgettable summer experience for visitors of all ages. Whether you're seeking adventure, relaxation, or cultural immersion, Javea has something to offer everyone. So pack your sunscreen, sunglasses, and sense of adventure, and get ready to savor the summer in Javea!