Nestled on Spain's shimmering Costa Blanca, Javea, also known as Xàbia, is more than just a sun-kissed beach town with crystalline waters and golden sands. It's a culinary Eden, offering an incredible array of traditional dishes that reflect the town's rich history and its amalgamation of cultures over centuries. Food lovers who find themselves in this Mediterranean paradise are in for a treat. Here are the must-try traditional dishes when you visit Javea:
Also read: 10 Top Restaurants in Javea
#1 Arroz a Banda
Starting off with a classic, this is a rice dish traditionally made by fishermen. Prepared with fish stock, it was a way to make the most out of the day's catch. The rice is usually served alongside a fish dish, but it's the rich flavors of the sea infused in the rice that steal the show. Read more about Arroz a Banda
#2 Espencat
A tasty cold salad dish made from roasted red peppers, eggplants, and mackerel or cod. Everything is grilled, then peeled, and finally seasoned with garlic, olive oil, and salt. It's a perfect appetizer to enjoy on a warm Javea afternoon.
#3 Suquet de Peix
A delightful fish stew originally from the Valencia region. It's made with a mix of fish and shellfish simmered in a rich broth of garlic, tomatoes, and almonds. Each bite transports you to the Mediterranean coast.
#4 Tombet
Drawing similarities with the famous ratatouille, Tombet is a vegetable dish traditionally made with layers of sliced potatoes, bell peppers, and eggplants, all sautéed in olive oil. It's often served as a side dish to meat or fish, making it a versatile addition to many meals.
#5 Borreta
A dish that's perfect for those slightly cooler evenings, Borreta is a comforting fish stew. Made with potatoes, spinach, garlic, and salted cod, it's a dish that warms the soul.
#6 Cocas
These are small individual pizzas or tarts. The base, similar to pizza dough, is topped with a variety of ingredients. One of the most traditional is the coca de mollitas, with a topping of breadcrumbs, peppers, and sardines.
#7 Fideuà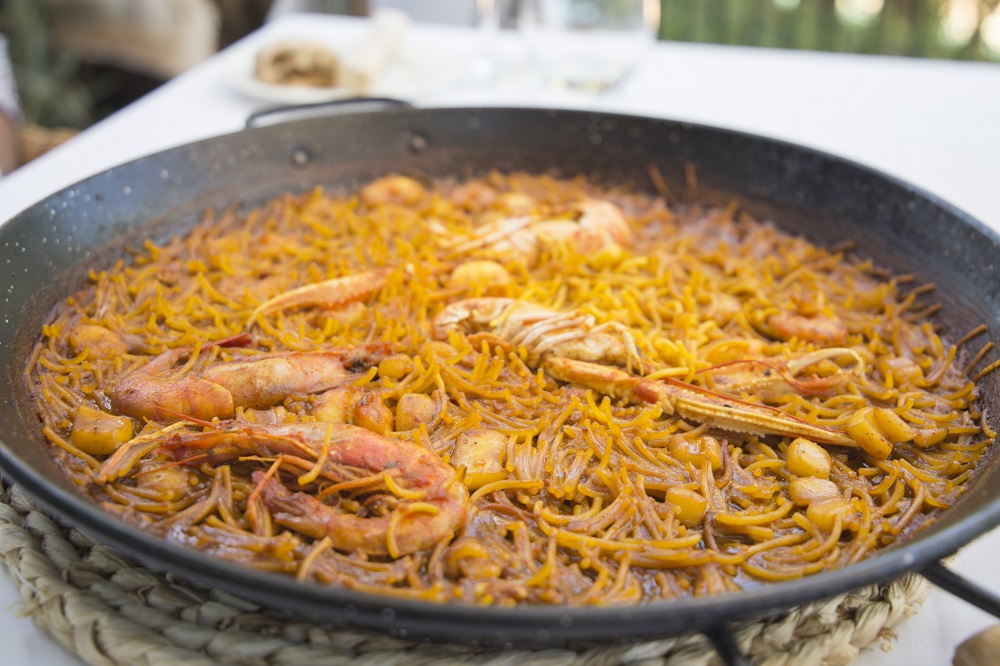 Often considered the cousin of the world-famous paella, Fideuà swaps out rice for noodles. Cooked in a paella pan with fish stock, seafood, and sometimes a touch of saffron, it's a delightful twist on a Spanish classic.
#8 Esgarraet
Another cold dish that features red peppers and cod. The peppers and cod are roasted and then seasoned with plenty of garlic and olive oil. It's a simple, refreshing dish with a burst of flavors, perfect with a slice of crusty bread. Read more about Esgarraet
#9 Pulpo Seco
A special delicacy, this dish is made of dried octopus. The octopus is dried under the sun, then grilled and served with a drizzle of olive oil and a sprinkle of sea salt. The result is a chewy and uniquely flavored treat.
#10 Turron
For those with a sweet tooth, no visit to Javea is complete without tasting Turron. This sweet nougat made from almonds is famous throughout Spain but holds a special place in the hearts of Javea's locals.
When in Javea, remember that the joy of Spanish cuisine is as much about the atmosphere as it is about the food. Consider enjoying these dishes al fresco with a view of the sea or in one of the town's traditional eateries. Pair with a local wine or a chilled sangria for the full experience.
The Role of Javea's Culinary Scene in Cultural Immersion:
To understand a place fully, one needs to savor its culinary offerings. Javea's traditional dishes are more than just delightful tastes and aromas. They tell tales of the town's history, its people, and its ties to the sea. From the fishermen's humble Arroz a Banda to the celebratory Turron enjoyed during festivals, the food is an intrinsic part of Javea's cultural tapestry.
For many travelers, the discovery of Javea through its food becomes a memorable journey. The fresh produce from the Mediterranean, the age-old recipes passed down through generations, and the warm hospitality of the town's people make it a gastronomic haven.
If you're looking to understand Javea and its beautiful traditions, start with the food. Whether you're dining in an upscale restaurant or a rustic, family-owned eatery, let the flavors guide you through the town's rich history and vibrant culture.
Conclusion:
Javea, while known for its stunning beaches and scenic beauty, offers an equally enticing culinary landscape. The traditional dishes, rich in flavor and steeped in history, are a testament to the town's deep connection to the sea and its multicultural heritage. As you explore the coastal beauty of Javea, take a gastronomic journey through its traditional dishes, and you'll find a richer, deeper connection to this Mediterranean gem.